PAM FLEMING QUARTET playing a variety of band members originals and Jazz standards from all eras.
Quartet Members:
Pam Fleming : Trumpet, Flugelhorn
"Pam's the rare jazz feline who writes songs, not just riffs that go around and around and around. She's got a gorgeous, clear tone on trumpet and flugelhorn that's powerful and soulful"нн
* * *
Lily White : Saxophones
"...is one of the most promising and engaging musicians on the New York jazz scene. In small clubs or large concert halls, on alto, tenor, or soprano sax, Lily never fails to inject her sunny personality and sharp wit into her playing"
* * *
Janice Friedman : Piano
NY Times Jazz Critic, John Wilson, hailed her playing as the highlight of the program. He wrote that her "explosive … piano playing carries the aura and variety of a big band."
* * *
Jennifer Vincent : Bass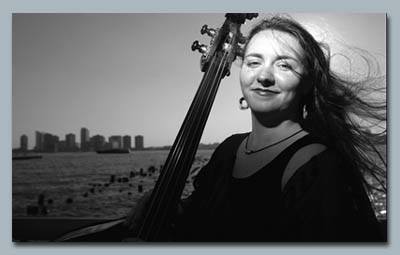 Jennifer Vincent, bassist and cellist, has been an active force on the jazz and latin scenes in NYC for the past two decades. She plays, tours, and records (and has played) with the likes of the Duke Ellington Orchestra, Betty Carter, Abbey Lincoln, the Harry Whiteaker Group, drummers Willie Martinez and Roberto Rodriguez (of Miami Sound Machine), Jon Hendricks, Paula West, Carmen Lundy, Son Sublime, and the famed Boy's Choir of Harlem.
She has had the good fortune to study at the New School with jazz and latin jazz legends Ron Carter, Buster Williams, and Andy Gonzales. In 2001 she traveled to Cuba to study with Orlando "Cachaito" Lopez, bassist of the beloved Buena Vista Social Club.
Jennifer can be heard on commercials for Olive Garden, Lipitor, and Marriott Hotels, among others. Her bass lines are featured on NBC's 75th Anniversary "Cosby Show Retrospective", as well as episodes of Dora the Explorer and Dirty Sexy Money.
She co-leads two groups: The New Jazz Quartet (dedicated exclusively to original material) and CoCoMaMa (an 8-piece all-female salsa band). For the past 7 years she has held the bass chair for the Duke Ellington Orchestra, touring the world over while carrying on the tradition of the longest-running and most legendary band in American history. All About Jazz has this to say about her......."bassist Jennifer Vincent shows that she can stay with anyone when it comes to getting a bass to sing."